INTRODUCTION
We all know that Satan fell due to rebellion against God, fueled by his insatiable pride. But few perhaps pause to consider that he had in fact formulated a very specific FIVE POINT PLAN!
As the Word of God tells us:
"For thou

(Lucifer)

hast said in thine heart,
(1)
I will ascend into heaven,
(2)
I will exalt my throne above the stars of God:
(3)
I will sit also upon the mount of the congregation, in the sides of the north:
(4)
I will ascend above the heights of the clouds;
(5)
I will be like the most High."
(Isaiah 14:13-14)
Five points. Hmmm...
This study will focus upon the third point:
"I will sit also upon the mount of the congregation, in the sides of the north."
This actually has a two-fold implication. Firstly, its essential eschatological conclusion is to be found in the Satanic intent to sit upon the (Temple) Mount of the (Jewish) congregation through the person of Antichrist, and proclaim himself to be God incarnate. (P.S. Calamity for Israel almost always came from the north, hence this direction's particular significance in this context.)
But its second and ominous import is that it also references something that occurs just PRIOR to the emergence of that Man of Sin, namely the ultimate End-Times APOSTASY of the CHURCH, the Satanic takeover of the mount - i.e. the pyramid structure - of the

"congregation of the saints." (Psalm 89:5).

We will look at this pyramid structure in due course, examining how it relates to Point One of another key Five Point Satanic plan, this being the Enemy's strategy to make the Church an utterly Truth-rejecting apostate body, cynically brought into line with all other false faiths to form an integral part of the unified One World Religion of Antichrist. Which is not very far off, and getting so much nearer by the day!
AGENDA FOR APOSTASY
"Let no man deceive you by any means: for that day shall not come, except there come a falling away first, and that man of sin be revealed, the son of perdition."
(2 Thessalonians 2:3)
Scripture is quite clear. Before Antichrist emerges from the wings to take centre stage, there first will occur a "falling away." This is the wholesale departure from Scriptural truth and sound doctrine, the embracing of "another gospel" and the lending of itchy ears to the lying but flesh-satisfying words of false teachers and prophets. The Church of the Last Days is NOT characterized by great revival, as many would have it, but by great APOSTASY! As the Word declares:
"Nevertheless when the Son of man cometh, shall he find faith on the earth?"
(Luke 18:8)
In investigating the very rapidly accelerating downward spiral of the Body into the dizzy 'Anything Goes' blur that it is today, it has become apparent that just as Satan has his overall Five Point Plan as outlined above, so has he also relentlessly forged ahead with a Five Point Plan specifically designed to counteract the very real threat that the Church poses to his evil ambitions.
To effectively annul that threat, the dastardly plan is to destroy it, not from WITHOUT, but from WITHIN!
I've recently been re-reading my copy of Hank Hanegraaf's landmark book, "Christianity in Crisis." In the two decades that have whizzed by since it appeared, the crisis has in no way abated, but actually deepened dramatically. The author uses a method throughout his work of using acronyms to make his points more memorable, and I will here follow his excellent example by similarly using a relevant 5-letter acronym to highlight the 5 key strategies (deceptions!) of the Enemy's overarching plan to captivate - and capture - the Bride of Christ.
This very appropriate acronym is:
F.L.E.S.H.
F
= FIVE-FOLD MINISTRY
L
= LATTER RAIN ESCHATOLOGY
E
= ECUMENISM
S
= SIGNS AND WONDERS
H
= HEALTH AND WEALTH
OK. That's the nucleus of what we're talking about here. Let's proceed to examine each of the five in a little more detail; putting some

F.L.E.S.H

on the bare bones, so to speak!
1) F = FIVE FOLD MINISTRY
The supposed "restoration" of the "Five-fold ministry" was a central plank of the Latter Rain Movement. The (badly flawed) eschatology of this movement and how its insidious influence is felt massively today, will be dealt with as Point Two. In fact, the emergence in Canada in 1948 of what was to become known as the Latter Rain Movement marked a very major turning point in the Church, with so very much of what is terribly wrong in the Body right now being easily traced back to ideas and concepts that were first embraced and actively promoted by Latter Rain exponents.
Traditional Pentecostalism has viewed the five specific ministries referenced in Ephesians 4:11, i.e. apostle, prophet, evangelist, pastor and teacher, as a FUNCTION of individuals in the Body. It should be (but apparently isn't) obvious that these functions overlap, with individuals' roles altering as the need and occasion arises. For example, what pastor - at least one who is truly worthy of his calling - does not teach as well as shepherd his flock? And is not every single believer called to evangelize? But in Latter Rain thinking, these roles are re-identified as OFFICES of CHURCH GOVERNMENT, each in turn carrying a higher status and degree of authority.
This is where my earlier reference to a pyramid structure comes into play. Churches which have run with this concept have essentially adopted the ways of this world, not the Kingdom that is to come, as their structure is on a par with any secular business operation. The "apostle" might be likened to the Managing Director of a Company, where lower down the chain of command the "evangelist" might be something like a factory Manager, and the "teacher" a Foreman on the shop floor. I think you'll probably get the drift of what I'm trying to say here. IMPORTANCE, POWER and POSITION mark the meanings of these 5 roles as understood by Latter Reign - sorry, Latter Rain! - adherents.
Pyramids? Wanna go back to Egypt?

Also known originally simply as "Restorationism," the belief in and adoption of the OFFICES of the "Five-fold ministry" has now more popularly become known as the New Apostolic Reformation (NAR) in the USA (whose leading light - more correctly darkness - is one C. Peter Wagner) and as the British New Church Movement here in the UK.
The adoption of a pyramid structure is of course in itself nothing new in Christendom. Roman Catholicism, under its Managing Director - sorry, the Apostle Peter's successor in the Vatican hot seat! - has used it for many centuries. (Pontiff, Cardinals, Archbishops, Bishops, etc.) If we cannot see the very real dangers to Truth that such a structure poses by looking at Rome's appalling example - and shuddering - I don't know what might shake us into the utter and righteous rejection of such a fleshly and twisted travesty!

Consider. Does not Satan truly sit upon the mount of the Roman Catholic congregation, as the puppet-master of the Popes:
The name "Vatican" predates Christianity and comes from the Latin
Mons Vaticanus
, meaning Vatican Mount. (Source: Wikipedia)
Has not the Vatican never changed its age-old aim of bringing all who would call themselves "Christian" back into its fold, and under the Pope's authority?
An Apostle, as should be quite apparent from the New Testament, is a man who MET PERSONALLY, FACE TO FACE WITH JESUS, AND BORE EYE-WITNESS TESTIMONY TO HIS RESURRECTION. Discipleship is one thing; apostleship is quite another! In a similar vein, no man has held the office of prophet since Old Testament times, as the coming of the Messiah and His glorious Gospel made the role redundant. They were the pointers; He was what they all pointed to!
As the Christian Research Institute has succinctly and astutely observed:
"The teachers of the 'Five-Fold ministry,' in seeking to 'restore' a foundation which has never been moved, are actually laying a false foundation which will not support the building up of the body of Christ."
Churches who have laid this false foundation are, by its self-perpetuating nature, extremely unlikely to move away from it. The authority structure is such that anyone questioning a decision from "above" is seen as a rebel, and a rebel against God at that, as in their eyes it is the Almighty who has given them their authority, and so to be obedient to God is to be obedient to the leadership. It follows that the movement is associated with "heavy shepherding" with all the grievous abuses of (assumed) authority that this can and does entail.
THE "RESTORATION" OF THE FIVE-FOLD MINISTRY IS A VAIN IMAGINATION OF THE FLESH, NOT AN INSTIGATION OF THE HOLY SPIRIT! IT SERVES ONLY THE ENEMY'S EVIL INTENTIONS, NOT GOD'S GOOD PURPOSES!
2) L = LATTER RAIN ESCHATOLOGY
With the emergence of the Latter Rain movement, there came not only a quantum shift in perceptions as to how the Church was to be structured, but how it was to become the "Church Victorious." Through its "Manifest Sons of God" aka "Joel's Army" the Church would take over all areas of religion, politics, economics and general social activity to produce the Kingdom of God on Earth, IN ADVANCE OF THE RETURN OF JESUS CHRIST! (See below). This totally unbiblical concept is also dubbed "Kingdom Now," and its contemporary tag is DOMINIONISM.
The supposed restoration of the Five-fold ministry, as we have noted, today mainly rears its ugly head as the New Apostolic Reformation / British New Church Movement. And we must note here that a key NAR principle is "theocracy," which can essentially be defined as the working out of Dominionism in practice: having "Kingdom-minded people" in ALL AREAS OF SOCIETY. Seven areas of society are specifically identified:
DOMINIONISM can be seen to have a distinctive and radical departure from the eschatology which marks a Church holding to sound doctrine and proper Biblical exegesis. It sees the Church as CHAMPIONS OVERCOMING THE WORLD, crushing the opposition and holding the trophy aloft. THEN, and only then, will JESUS return. Israel has no place in this warped End-Times scenario, for in its inherent Replacement Theology, the Church has inherited God's promises to Israel. Jesus returns not to set up the Kingdom Himself, but to simply take up the Throne that has been won FOR Him! The Church are the overcomers, not Him! The Church becomes the active agent of change and ultimate victory, and the Lord merely a passive observer of it!

This in a nutshell, is Latter Reign - sorry, Latter Rain! - eschatology. Dominionism. Myth. Fable. As we were warned:
"And they shall turn away their ears from the truth, and shall be turned unto fables."
LATTER RAIN / DOMINIONIST ESCHATOLOGY IS FUNDAMENTALLY FLAWED, BEING ROOTED IN PRIDE NOT HUMILITY AND THUS REFLECTING IT'S TRUE AUTHOR'S POWER-HUNGRY PERSONALITY. IT RE-WRITES THE BOOK, TO MAKE THE CHURCH THE HERO OF THE STORY, RATHER THAN THE ONE WHO REALLY IS.
One of the great cries today is "Unity!" The trouble is, it invariably means unity at any price. And the cost is great indeed. In the pursuit of this heady goal, the first casualty becomes sound doctrine. In the interests of the "common good" any points of "disharmony" are studiously swept under the carpet, and a "we all essentially believe the same thing" delusory attitude prevails.
This concept of churches working together as one - ecumenism - is fostered and overseen in the UK by Churches Together in Britain and Ireland ('Cytun' - Welsh for 'Agreed' - here in Wales), and its ultimate global expression is to be found in the World Council of Churches. Ecumenism is in utter defiance of the Scriptural warning to
:
"Be ye not unequally yoked together with unbelievers: for what fellowship hath righteousness with unrighteousness? and what communion hath light with darkness?"
(2 Corinthians 6:14)
There is no better way of demonstrating this "unequal yoking" than pointing out the fact that wherever you find a local Churches Together grouping, you will invariably find the very active participation of the local Roman Catholic Church(es). And the Protestant/Evangelical churches involved are more than happy to accommodate them unquestioningly. THERE IS SOMETHING VERY SERIOUSLY WRONG HERE! Out of the countless unbiblical atrocities that constitute the daily workings of the Roman church, let's look at just one monstrosity: the Mass.
The round, sun-disc wafer and the wine are taken to become literally not figuratively, the body and blood of Jesus. In the consecration, the wafer, or host, is believed to ACTUALLY BECOME GOD, the transubstantiation. THE PEOPLE THEN ENGAGE IN THE UTTERLY PAGAN PRACTICE OF GOD-EATING! This is the disgusting Satanic mockery of the "internalization" of God in man, the vile counterpart of the indwelling of believers by the Holy Spirit.
What have we come to as born again Protestant believers, that we now so actively seek unity with such BLASPHEMY as this?
Consider if you will just these two snippets from the Papal Bull 'Unam Sanctam,' issued by Boniface VIII:
"Outside of her

(i.e. the Roman Catholic Church)

there is neither salvation nor the remission of sins"
"Furthermore, we declare, we proclaim, we define that it is absolutely necessary for salvation that every human creature be subject to the Roman Pontiff.
"
And, of course, all Catholics believe in Papal infallibility... Do we also? The ramifications of embracing Catholics as fellow workers, with the same ends, are great indeed!
Again, I ask, just what have we come to?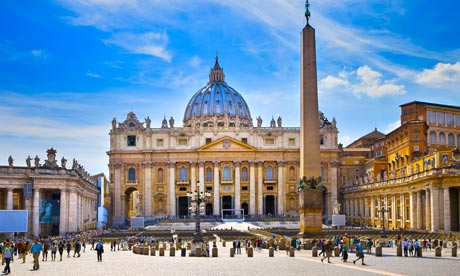 ECUMENISM IS THE BROAD ROAD, NOT THE NARROW WAY. IT LEADS ONLY TO THE ONE WORLD RELIGION OF ANTICHRIST... AND DESTRUCTION!
4) SIGNS AND WONDERS
"A wicked and adulterous generation seeketh after a sign."
On 20 January,1994, the Vineyard's Toronto Airport church hosted a speaker by the name of Randy Clark (a Vineyard pastor from St. Louis) who had received "the anointing" from self-proclaimed "Holy Ghost Bartender," Rodney Howard-Browne. Clark testified how he would get "drunk in the spirit" and laugh uncontrollably, and in response absolute bedlam broke out, with the congregation laughing, dancing, shaking, growling and barking like dogs, some folk even being locked in a state of paralysis. In next to no time, the Church worldwide was infected with this vile contagion; a spiritual pandemic had broken out, and the carriers of this deadly virus continue to spread it far and wide to this day.
Dubbed the "Toronto Blessing" this totally unbiblical and fleshly pantomime was hailed as a great move of God to revive the Church, when the reality of the matter was that the perceived "blessing" was actually a demonic curse and an absolute abomination straight from the pit of Hell!
"Ye shall know them
by
their
fruits
." (Matt. 7:16)
JESUS DESCRIBED THE HOLY SPIRIT AS 'THE COMFORTER,' A VERY FAR CRY INDEED FROM THE MANIC, IN-YOUR-FACE, THEATRICAL 'PARTY ANIMAL' OF TORONTO AND ITS OFFSHOOTS, WHO DELIGHTS IN EXHIBITIONS OF "DRUNKENNESS" AND CAUSING ABSOLUTE MAYHEM!
THE TRUE AND GENTLE HOLY SPIRIT NEVER DRAWS ATTENTION TO HIMSELF, HE ALWAYS POINTS TO THE SON, AS THE SON IN TURN POINTS TO THE FATHER. THIS IS THE PROPER ORDER OF THINGS; IT HAS ALWAYS BEEN SO, AND ALWAYS WILL BE!
Signs and Wonders - or Power Evangelism / Charismatic Renewal / Third Wave, as some term it - is intimately associated with the late John Wimber's Vineyard movement, though its tentacles have spread far and wide to pull in full many an undiscerning fellowship. Its influence is felt even in Roman Catholic circles, where the Catholic Charismatic Renewal movement has the full backing of the Vatican itself. AND THE VATICAN WILL NEVER ENDORSE ANYTHING THAT IT DOES NOT SEE AS BEING IN ITS OWN INTERESTS.
The Charismatic movement began around 1960. Sharing a common stance (but not approach and emphasis) with classical Pentecostalism over the non-cessationist nature of the gifts of the Spirit, the movement differed dramatically in that whereas the Pentecostals had left the mainstream denominations and formed their own, Charismatics felt no such need and remained to openly practice their new-found "empowerment" within their existing churches, beginning a far-reaching process which continues today. But it was in 1981, with John Wimber's explosion onto the scene, that everything really took off.
A central focus of "Signs & Wonders" is the notion that the communication of the Gospel (or, at least, what practitioners perceive to be the Gospel) to unbelievers is greatly enhanced when accompanied by manifestations of a supernatural nature e.g. healing or prophecy, purporting to be of the Holy Spirit. SIGNIFICANTLY, THE GIFTS OF WISDOM AND DISCERNMENT HAVE NEVER FIGURED VERY HIGHLY AMONGST CHARISMATICS AND NEO-CHARISMATIC / THIRD WAVE ADHERENTS LIKE WIMBER AND HIS FOLLOWERS!
THE ESSENTIAL POINT IS THAT THE WHOLE 'CHARISMATIC CUM SIGNS & WONDERS' MOVEMENT HAS CAUSED A CATASTROPHIC RE-FOCUSING OF THE CHURCH AT LARGE. THE PURE GOSPEL OF SALVATION HAS EFFECTIVELY BEEN MORPHED INTO A MESSAGE OF RECEIVING AN EXPERIENCE-BASED FAITH, NOT FOUNDED ON THE WORD OF GOD BUT ON MEN'S PERCEPTIONS OF AND RESPONSES TO A SUPERNATURAL "HAPPENING!" THE TORONTO BLESSING (ORWELLIAN DOUBLE-SPEAK FOR CURSE) DEMONSTRATED CONCLUSIVELY (TO ANYONE STILL UNFASHIONABLY EXERCISING WISDOM AND DISCERNMENT) THE ABSOLUTE FOLLY OF THIS, A DEADLY FOLLY THAT CONTINUES UNABATED TO THIS DAY.
THE "NEW WINE" THEY BOAST OF IS CONTAMINATED AND DEADLY; IT IS TOXIC THROUGH AND THROUGH!
"DOING THE STUFF," AS JOHN WIMBER SO
FLIPPANTLY CALLED THE UNLEASHING OF 'SIGNS &
WONDERS' MANIFESTATIONS, IS A MOST ERRONEOUS
AND INDEED DOWNRIGHT DANGEROUS FASCINATION
AND PREOCCUPATION WITH THE 'HOLY SPIRIT,' OR
RATHER A CYNICAL, SATANIC COUNTERFEIT OF HIM!



5) HEALTH AND WEALTH
The Word-Faith movement, with its so-called "Prosperity Gospel" - which is no gospel at all! - peddles a most heinous and utterly fleshly concept, which effectively replaces GRACE with GREED and emphasizes the temporal and not the eternal. Its "name-it-and-claim-it" ethos is an extremely unGodly perversion, which rather than "dying to self" promotes "living for self." Building up treasures in Heaven as Jesus taught is not what counts, but the acquiring of wealth - and enjoying perfect bodily health - right here and now in the earthly realm. As the great charlatan Benny Hinn has said, "I don't need gold in Heaven! I've gotta have it now!"
To deal first with Word-Faith teaching on HEALTH. A couple of examples:
"God intends for every believer to live completely free from sickness and disease. It is up to you to decide whether or not you will."
- Kenneth Copeland
"There will be no sickness for the saint of God... He promises to heal all - every one, any, any whatsoever, everything - all our diseases! That means not even a headache, sinus problem, not even a toothache - nothing! No sickness should come your way."
- Benny Hinn
Lies. Deceit. Rank heresy. And yet millions of people worldwide have been duped by the utterly and glaringly false assertions of twisted and Scripture-twisting men such as these! We have never been promised sound bodily health this side of Heaven. Through the Lord's immeasurably good grace by which we are saved, our spirit is redeemed, but our flesh remains in a state of corruption, and aging and decay of the earthly vessel is an inevitability. The believer is still subject to the same blights of the body as everybody else, the same illnesses, diseases, disabilities and pains. This is the plain fact of the matter.
God can most certainly heal IF HE WILLS IT, but the bottom line is that during our life's short flowering here on earth, His priority is that we should find and enjoy good SPIRITUAL health, and PHYSICAL health very much plays second fiddle. Maybe our best example to look to is the Apostle Paul, who was afflicted with what he described as a "thorn." And although he prayed for God to remove it, the answer was "NO!" Why? Because the physical problem prevented a SPIRITUAL PROBLEM. (See 2 Corinthians 12:7). We may not understand why things befall us, but we are not to question but humbly accept God's absolute sovereignty. As He unanswerably declares:
"For my thoughts are not your thoughts, neither are your ways my ways, saith the

LORD

.
For as the heavens are higher than the earth, so are my ways higher than your ways, and my thoughts than your thoughts."
(Isaiah 55:8-9)
This is how Paul reported God's not granting the removal of his "thorn," and what a magnificent testimony and powerful revelation it is:
"For this thing I besought the Lord thrice, that it might depart from me.
And he said unto me, My grace is sufficient for thee: for my strength is made perfect in weakness. Most gladly therefore will I rather glory in my infirmities, that the power of Christ may rest upon me.
Therefore I take pleasure in infirmities, in reproaches, in necessities, in persecutions, in distresses for Christ's sake: for when I am weak, then am I strong."
(2 Corinthians 12:8-10)
Not quite what the Word-Faith deceivers teach, now is it???!!!
Of course, if the allegedly mandatory healing doesn't materialize, it is the sick person's own fault. Not enough faith... hidden/unconfessed sin... lack of "positive confession"... Are you poor, or at least, not rich? Driving a 10-year old Ford rather than a brand new Porsche? Scraping together the mortgage or rent for a 2-bedroom terraced house or living luxuriously in a mansion with 4 bathrooms? Well, the Word-Faith teachers have the answer...
Let's now have a little look at their slant on WEALTH.
Essentially, God's blessings are equated with a man's possessions. His bank balance demonstrates how favoured he is by God; closeness to God is measured by the size of his house, the price tag of his car and the label on his clothes. And such material assets can be spoken into being, through the (occult) technique of visualization and realization through "positive confession!"
A good many years ago, the great "Christian" con artist Oral Roberts dreamed up the nefarious SEED-FAITH scam: "Have a need? Plant a seed!" The premise was that if a seed - money, of course! - was planted i.e. dropped into the collection box - belonging to said Mr. Roberts, of course! - God would "grow it" to meet your need! "Give in order to get" was then ingeniously expanded into the "Hundredfold" big sell, whereby the giver could expect to receive back a hundred times more than his or her "stake" - sorry, seed offering!
Trinity Broadcasting Network (TBN, which might better stand for True Believer's Nightmare) has milked this whole sorry scam for all its worth, and has provided the dream platform for a whole host of 'Prosperity Gospel' wolves since its conception in the Pit and birth on the airwaves back in 1973. TBN's international influence in promoting Word-Faith heresy is absolutely incalculable. When considering "Christian" TV, the OFF button is by far the best choice to make!
N.B. Quite apart from their favourite "terrible twins," Health and Wealth, a fairly cursory - but honest - examination of the utterances of Word-Faith's leading luminaries will quickly reveal a whole plethora of aberrant and abhorrent teachings.


THE "HEALTH AND WEALTH" PLATFORM OF THE WORD-FAITH MOVEMENT IS FOCUSED ENTIRELY ON THE HERE-AND-NOW AT THE EXPENSE OF THE ETERNAL. IT GLORIFIES THE FLESH AND THE THINGS OF THIS WORLD, AND HAS NOTHING WHATSOEVER TO DO WITH TRUE BIBLICAL FAITH AND EVERYTHING TO DO WITH THE ENEMY'S SELLING OF A SHODDY COUNTERFEIT ALTERNATIVE TO SUCH FAITH!
Of course, all the various strands of

F.L.E.S.H.

deceptions -
rather than being exclusive phenomena -
overlap each other to a very considerable degree, further muddying the waters which should, through the complete and finished work of our Lord Jesus Christ, be crystal clear to all!
I trust it will be appreciated that what has been presented here is just an overview of these key Satanic strategies, the mere tip of what is a very large iceberg indeed.
My hope is that enough has been revealed in this article to provoke people into seriously questioning whether they've been feeding upon the God-given good meat of the Gospel, or the junk food of deceived and deceiving men, which may be tempting to the taste buds but is lamentably lacking in any true nutritional substance.
Please, please do your own research, and test everything against the Word of God!
Ask yourself those difficult but very necessary questions. And give yourself honest answers, however unpalatable they may be. As the old saying goes, "Truth hurts!" But a short-term wound to the flesh is as nothing compared to the eternal damage that following

F.L.E.S.H.

can bring to the spirit.
So finally,three important A's to remember:
A
SK.
A
NSWER.
A
CT.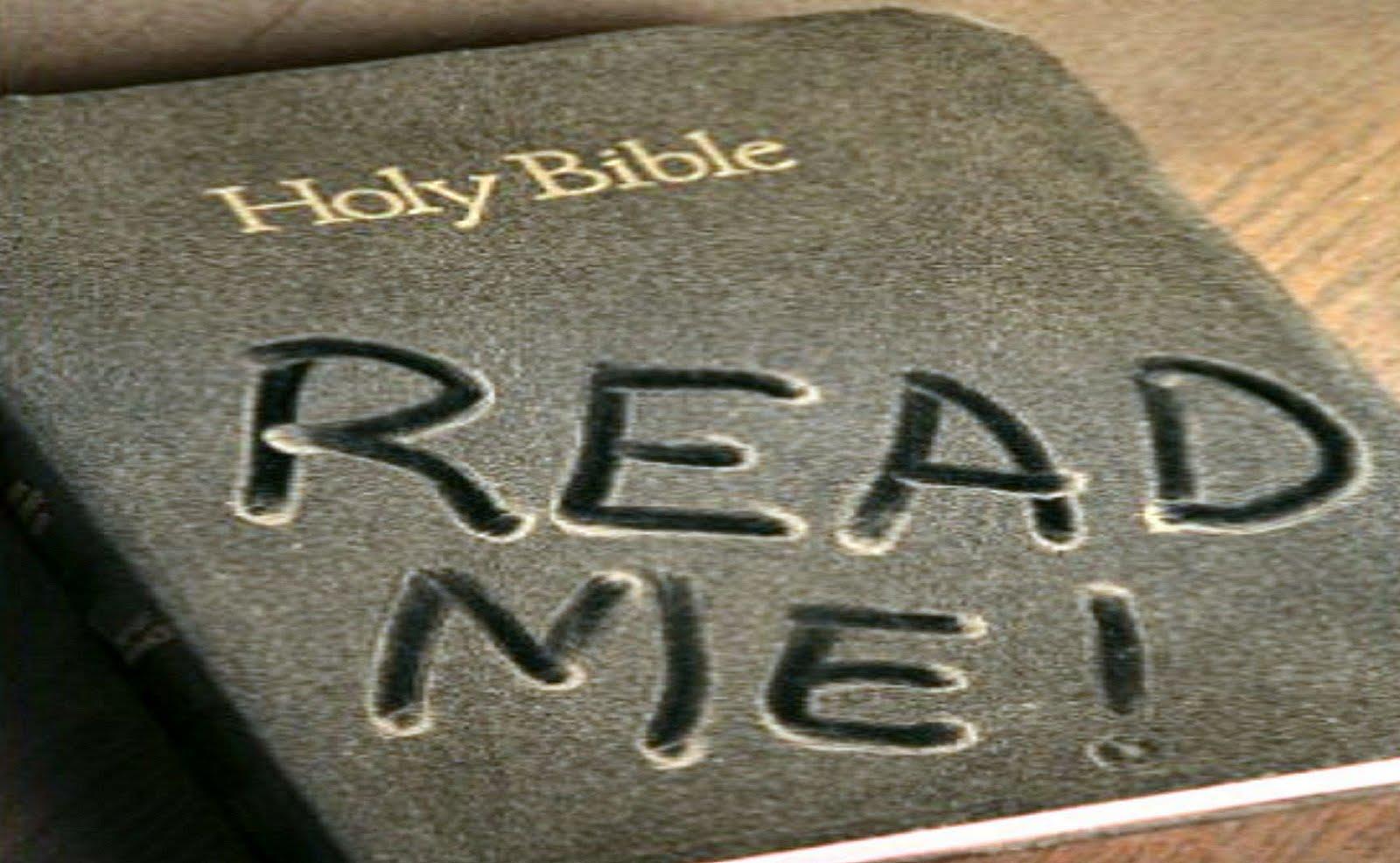 * * * * * * *
"

This know also, that in the last days perilous times shall come.
For men shall be lovers of their own selves, covetous, boasters, proud, blasphemers, disobedient to parents, unthankful, unholy,
Without natural affection, trucebreakers, false accusers, incontinent, fierce, despisers of those that are good,
Traitors, heady, highminded, lovers of pleasures more than lovers of God;
Having a form of godliness, but denying the power thereof: from such turn away.
For of this sort are they which creep into houses, and lead captive silly women laden with sins, led away with divers lusts,
Ever learning, and never able to come to the knowledge of the truth.
Now as Jannes and Jambres withstood Moses, so do these also resist the truth: men of corrupt minds, reprobate concerning the faith.
But they shall proceed no further: for their folly shall be manifest unto all men, as their's also was.
But thou hast fully known my doctrine, manner of life, purpose, faith, longsuffering, charity, patience,
Persecutions, afflictions, which came unto me at Antioch, at Iconium, at Lystra; what persecutions I endured: but out of them all the Lord delivered me.
Yea, and all that will live godly in Christ Jesus shall suffer persecution.
But evil men and seducers shall wax worse and worse, deceiving, and being deceived.
But continue thou in the things which thou hast learned and hast been assured of, knowing of whom thou hast learned them;
And that from a child thou hast known the holy scriptures, which are able to make thee wise unto salvation through faith which is in Christ Jesus.
All scripture is given by inspiration of God, and is profitable
for doctrine, for reproof, for correction, for instruction in righteousness:
That the man of God may be perfect, thoroughly furnished unto all good works."
(2 Timothy Chapter 3)

* * * * * * *