"Say what??? Japanese knotweed??? Have you completely lost the plot, Rob!" I hear someone ask. Well, please bear with me, and I'll explain...
Japanese knotweed (Reynoutria japonica/Fallopia japonica) is a highly invasive weed, introduced to the UK from the Far East by explorers in the 19th. century as a very desirable ornamental plant to beautify gardens. It can amazingly grow to 9 feet in only 4 months!
Sadly, it soon showed its true colours, as it burst forth from the gardens where it had been unsuspectingly planted and revealed itself to be an unstoppable pest, with its stems being more than able to break through any concrete, tarmac and brick that stands in their path. Even when chopped into pieces, tiny parts of it can turn themselves into whole new plants to re-start their relentless forward march.
And Swansea it seems has been one of the worst affected places in the UK.
"I know Swansea's around here SOMEWHERE!"
OK... so what's all this horticultural stuff got to do with
deception in the Church?
Well...
Japanese knotweed is remarkably like the so-called "Toronto Blessing." The TB is similarly highly invasive, and its origins are also in the Far East, where it is a phenomenon known as Kundalini Yoga. And just like 'Reynoutria japonica,' the TB too was seen to be a highly desirable and beautiful thing, being unthinkingly planted everywhere by its admirers and similarly growing to gigantic proportions in a very short time!
Just like Japanese knotweed, the TB has shown itself to be very far from desirable, and an unstoppable pest, with its offshoots (often known as "outpourings") breaking through even what might have appeared to be the strongest of God-fearing congregations, with the soundest of doctrine.
When seemingly history, it is characterized by the amazing ability of even the least little trace of it to grow into a whole new plant and continue its forward, destructive march...
And Swansea is proving to be remarkably fertile ground for both of these phenomena!
Swansea's Luciferian phoenix logo.
This merry month of May (15th-17th to be exact) the one and only Randy Clark is coming to town, courtesy of New Wine Cymru, to participate in their (Mis)leaders Conference. Be it noted that no less than 40% of NWC's Leadership Team comprises of Julian and Sarah Richards, the Dynamic Duo behind Cornerstone Church in Swansea.
Julian is actually the Leader of NWC. He and his NWC colleagues have so, so much to answer for in bringing the very man responsible for launching the "Toronto Blessing" here to Wales' Second City, to "impart" his nefarious brand of counterfeit revival to all the gullible and undiscerning folks who will be attending this riotous and regrettable event at Swansea's Venue 2. (At £70 a head, they certainly have much more money than sense!)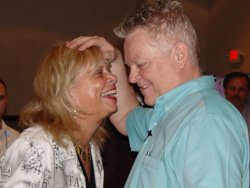 "It's SO hilarious, Mr. Clark! All those people going to Hell, haha!"
Wales is awash with the "Signs & Wonders" deception. And New Wine Cymru is powering it all along, like an "unsinkable" spiritual Titanic with Captain Richards on the bridge, steaming the "evangelical" Church here in Wales ever closer to the iceberg and absolute disaster...
Cardiff's City Temple has just held a big "Signs & Wonders" event, with the visit of David and Greta Peters from New Zealand on 9th/10th May. Elim's City Temple has of course previously been the delighted host of the great Dominionist deceiver and Toronto trafficker Bill Johnson. Johnson is the Senior Pastor of Bethel in Redding, California, infamous for its "glory cloud," "gold dust" and "angel feathers" manifestations.
New Wine Cymru similarly enthuses about Johnson's spiritual fables and fantasies:
Jesus literally brought heaven to earth and signs, miracles and healing, demonstrated that. The coming of Jesus the King, his death and resurrection was for the purpose of restoring to humanity the honoured place and role of Kingdom rulership in Christ and ultimately all of creation to be restored by God. (Romans 8)
The result of this is that societal, relational and spiritual change can be brought about by God's power at work through his people as they advance the Kingdom of Jesus Christ.
Bill Johnson summarises it wonderfully when he says "we are not waiting to die to go to heaven but rather living to bring heaven to earth!"
(Source: New Wine Cymru)
MAJOR ERROR ALERT! DID NOT JESUS BEFORE PILATE DECLARE:
"MY KINGDOM IS
NOT
OF THIS WORLD."
(John 18:36)
Look very carefully at what New Wine Cymru teaches, as quoted above:
"The coming of Jesus the King, his death and resurrection was for the purpose of restoring to humanity the honoured place and role of Kingdom rulership in Christ..."
UTTERLY WRONG! THIS IS A FLESH-FLATTERING DOMINIONIST DELUSION, GIVING AN ENTIRELY NEW TWIST TO THE PURPOSE OF THE INCARNATION! THE COMING OF JESUS, HIS DEATH AND RESURRECTION WAS TO RECONCILE FALLEN MAN TO GOD THE FATHER, THAT THE WRETCHED SINNER MIGHT BE SAVED FROM RIGHTFUL CONDEMNATION AND A LOST ETERNITY!
IT WAS ALL ABOUT

SAL

VATION, NOT

ELE

VATION!
THE CHRISTIAN WALK IS ONE OF REPENTANCE, SERVITUDE AND HUMILITY, NOT PRIDE, POWER AND POSITION!
DOES NOT JOHN'S GOSPEL SO CLEARLY AND BEAUTIFULLY PRONOUNCE:
"
For God so loved the world, that he gave his only begotten Son, that whosoever believeth in him should not perish, but have everlasting life.
For God sent not his Son into the world to condemn the world; but that the world through him might be saved.
He that believeth on him is not condemned: but he that believeth not is condemned already, because he hath not believed in the name of the only begotten Son of God."
(John 3:16-18)
GOD SENT HIS SON THAT THE WORLD THROUGH HIM MIGHT BE

SAVED!

WHAT COULD BE CLEARER THAN THAT, 'NEW WINE CYMRU?'
Here in Wales, one of the latest, largest and most widely-publicized "Signs & Wonders" deceptions has been the counterfeit move of the Spirit known as the "Welsh Outpouring" at Victory Church in Cwmbran, (mis)led by Richard Taylor and Andrew Parsons.
Their complicity in the New Wine movement's global drive to hi-jack the Church and replace sound doctrine with an experience-based, re-defined pseudo-Christianity, can be seen in both these men's attendance at New Wine Scotland's 'CLAN Gathering 2014, 2nd-5th May' in Edinburgh, where Taylor spoke. He is, of course, now due to appear as a celebrated guest speaker at the New Wine Cymru (Mis)leaders Conference.
"Edinburgh was great, Andrew! Now for Swansea!"
N.B. Victory Church's appalling accommodation with the antichrist ecumenical movement as well as the lying Signs & Wonders movement, has also been evidenced this month. Pastor Clyde Thomas of Victory Church was one of four speakers at 'Celebrate Wales 2014' in Cardiff, 3rd/4th May. 'Celebrate Wales' is an organ of the Catholic Charismatic Renewal, which operates with the full backing of the Vatican! In the words of the old stage musical song, 'ANYTHING GOES!'

It's getting to be extremely difficult to find a church which has not been invaded by error in some shape or form. It is indeed the age of Laodicea, the lukewarm, self-glorifying, flesh-centred church of the Last Days! In respect of which this old saying comes to mind: "WATER, WATER ALL AROUND, BUT NOT A DROP TO DRINK" which I'll take the liberty of paraphrasing a little to underline the point I'm trying to make:
"POLLUTED WATER ALL AROUND, BUT NOT A DROP THAT'S SAFE TO DRINK!"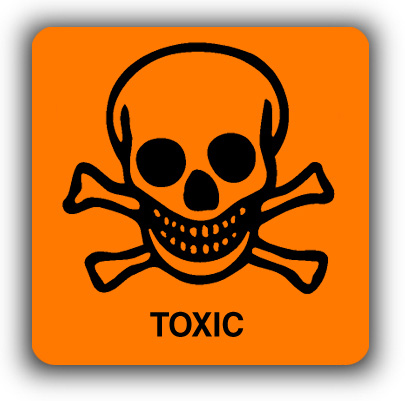 TEST THE WATER BEFORE DRINKING ANY OF IT! AS SCRIPTURE URGES:
"Beloved, believe not every spirit, but try the spirits whether they are of God: because many false prophets are gone out into the world."
(1 John 4:1)
THE VARIOUS OFFSHOOTS OF THE "SIGNS & WONDERS" MOVEMENT ARE QUITE SIMPLY THE PROGENY OF THE DEEPLY SATANIC "TORONTO BLESSING," AND URGENTLY NEED TO BE SEEN AS SUCH AND SHUNNED ACCORDINGLY! TO COURT AND PROMOTE THIS DIRE DECEPTION IS TO DANCE WITH THE DEVIL IN AN ORGIASTIC MASQUERADE BALL!
TO ANYONE ATTENDING THIS 'NEW WINE CYMRU' TRAVESTY, I WOULD IMPLORE YOU TO VERY SERIOUSLY CONSIDER THESE WORDS OF OUR LORD:
"AN

EVIL

AND

ADULTEROUS

GENERATION
(Matthew 12:39)
"For there shall arise false Christs, and false prophets, and shall shew great

signs and wonders

; insomuch that, if it were possible,
they shall deceive the very elect."
(Matthew 24:24)
"For false Christs
and
false prophets shall rise,
and
shall shew
signs
and
wonders
,
to seduce, if it were possible, even the elect."
(Mark 13:22)
NOTE WELL: FALSE "CHRISTS" = FALSE "ANOINTED ONES!"

PLEASE READ THIS REPORT IN CONJUNCTION WITH MY "ADVANCE WARNING" OF THE (MIS)LEADERS CONFERENCE IN SWANSEA: