"For we wrestle not against flesh and blood, but against principalities, against powers, against the rulers of the darkness of this world, against spiritual wickedness in high places.
Wherefore take unto you the whole armour of God, that ye may be able to withstand in the evil day, and having done all, to stand."
(Ephesians 6:12-13)
As 2014 is consigned to history, and 2015 begins its uncertain course, one thing that all truly born-again believers can be sure of is that by the immeasurable grace of God, our ultimate destination in Him is that much closer than when we first received and believed the glorious Gospel of our Lord Jesus Christ! As God's Word declares:
"And that, knowing the time, that now it is high time to awake out of sleep: for now is our salvation nearer than when we believed.
The night is far spent, the day is at hand: let us therefore cast off the works of darkness, and let us put on the armour of light."
(Romans 13:11-12)
I want to take this opportunity in my first posting of 2015 to make a plea, an appeal which comes as an urgent cry from the very depths of my spirit: please, my brothers and sisters in the Lord who are His dearly beloved bought with a price, will you resolve to stand firm against apostasy in 2015? At this time, when it is customary to make a resolution, could this be yours? Will you heed the passionate pleading of Jude to "earnestly contend for the faith which was once delivered unto the saints?"
It is indeed high time to awake out of sleep! This is no time for spiritual slumber, passivity and complacency! The "faith once delivered" is under attack as never before. From every direction, and in every which way, people are being presented with "another Jesus... another spirit... another gospel!" (2 Corinthians 11:4). The deadly, spiritually crippling disease of deception has now reached not just epidemic but pandemic proportions. An incalculable number of people have contracted this spiritual Black Death. It is a plague and an abomination. And it must be fought! It must be stood against! We cannot just slam the door shut, bolt it and bar it and shield ourselves from the onslaught. We have to "cast off the works of darkness and put on the armour of light" and fight back, denouncing what is wrong, and pronouncing what is right!
More easily said than done? Of course! Are you weak? Weary? Wounded? I am! And unworthy too, on so many counts! But time and again I'm brought back to this Scripture about God's calling on our lives:
"For ye see your calling, brethren, how that not many wise men after the flesh, not many mighty, not many noble, are called:
But God hath chosen the foolish things of the world to confound the wise; and God hath chosen the weak things of the world to confound the things which are mighty;
And base things of the world, and things which are despised, hath God chosen, yea, and things which are not, to bring to nought things that are:
That no flesh should glory in his presence."
(1 Corinthians 1:26-29)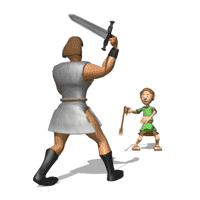 I personally have no doubts that the tsunami of apostasy hitting our shores - caused by a massive sea-bed earthquake of erroneous teaching - is nothing less than that Falling Away from the True Faith, which we were warned in Holy Writ would be the immediate precursor to the emergence of Antichrist. (See 2 Thessalonians 2:3).
Many there are who will tragically be swept away by the unprecedented power of this End-Times tidal wave, those who have so foolishly seen fit to abandon the solidity of the Rock and build a new abode on what they see as being the preferable softness of the sand! It is only by remaining firmly on that unyielding Rock that we are safe, in these perilous times that we were told would come! (See 2 Timothy 3:1).
"The LORD is my rock, and my fortress, and my deliverer; my God, my strength, in whom I will trust; my buckler, and the horn of my salvation, and my high tower."
(Psalm 18:2)
I similarly have no doubts that despite the mass exodus from the One True Rock onto the shifting sand of Satanic delusion, God has reserved Himself a remnant, an upright and uncompromising, Word-centred people who have not bowed the knee to Baal! A people who discern what is happening, and are deeply grieved in their spirit by the deluge of false teaching and the preaching of an alien pseudo-gospel which is culturally wealthy but spiritually bankrupt!
It is common for the individuals who make up this remnant to have entered into an extremely harsh and testing wilderness experience. Isolation, ostracism, ridicule and condemnation is so often their lot. It is they who are deemed to be the rebels and troublemakers, and just not in tune with what God is doing today! It is not easy to make a stand, but stand we must! The stakes have never been higher! We are to take up our cross and follow Him. Faithfulness to "the author and finisher of our faith" is everything. And it is in HIS strength and not our own that we stand in the gap! As it is written:
"The LORD is my light and my salvation; whom shall I fear? The LORD is the strength of my life; of whom shall I be afraid?"
IF ANYONE READING THIS IDENTIFIES WITH THESE SENTIMENTS, AND WOULD LIKE TO GET IN TOUCH, I'D REALLY LOVE TO HEAR FROM YOU! YOU CAN SEND ME A PRIVATE EMAIL AT
watchman4wales@yahoo.co.uk
WHEREBY YOUR CONTACT DETAILS REMAIN PRIVATE. YOU MAY BE INTERESTED TO KNOW THAT THROUGH THE LORD'S PROVIDENCE, A FEW SUCH LIKE-MINDED CONCERNED CHRISTIANS MET TOGETHER RECENTLY, AND WE HAVE HIGH HOPES OF COMMENCING REGULAR GET-TOGETHERS (PERHAPS MONTHLY?) SHORTLY, SOMEWHERE IN THE SOUTH WALES AREA. IF ANYONE IS INTERESTED, PLEASE DO LET ME KNOW! - Rob.